100% own production
The unrivalled quality of TES springs is ensured by:
• using only the best raw materials,
• adherence to procedures and standards,
• high skills and experience of our staff,
• state-of-the-art technologies,
• certified European steel.
Before our springs reach the customer, they receive unique numbers and are then moved to our warehouse.The entire manufacturing process is rigorously controlled for quality and safety.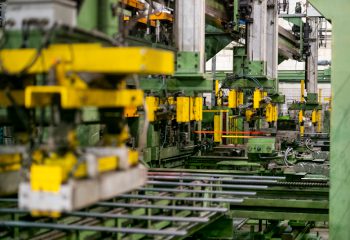 1
CUTTING
A flat bar is cut to dimensions indicated in the specifications.
2
ROLLING
A pre-programmed parabola is copied onto the leaf using a rolling machine.
3
HOLE DRILLING
Holes for the central screw, caps, bumpers, etc. are made.
4
FORMING OF EYES
Openings for bushing mounting are formed using a dedicated machine by the renowned Hauser brand.
5
BENDING OF ENDS
The ends are bent to ensure smooth leaf operation, particularly important.
6
HEATING OF LEAVES
See more
HEATING OF LEAVES
The spring leaves are heated and annealed in the hardening temperature recommended for different spring steel types.
7
HARDENING
Rapid cooling in hardening oil to achieve an appropriate structure ensuring improved hardness and strength, and reduced plasticity.
8
TEMPERING
Heating and annealing in an appropriate hardened steel temperature to eliminate unfavorable features: residual stresses and considerable brittleness.
9
SHOT PEENING
Shoot peening consists in striking the tensile surface of the leaf spring with a high-speed stream of hard steel wire balls. This not only causes the spring's surface to harden but also eliminates pores and pits and prevents the formation of micro-cracks during its operation.
10
ASSEMBLY
The spring is equipped with bushings, bumpers, spacers, washers and other elements; the leaves are brought together by a pulling screw.
11
SETTING AND TESTING
See more
SETTING AND TESTING
Improving the fatigue service life of the spring and verifying if its spring rate complies with the technical documentation.
12
PAINTING OF LEAVES
See more
PAINTING OF LEAVES
The spring is protected against corrosion by coating with a special paint.